Apparel Tech Pack Freelancer in Manchester
Sarah Denise Cordery is an apparel tech pack freelancer in Manchester.
If you live in the North West of the UK and you are starting your fashion brand then you definitely need to know Sarah. Reach out to her for help with tech packing, design, and production of your bodywear. She is a highly qualified apparel tech pack freelancer in Manchester. She travels a lot to London and loves working there too.
Getting expert advice and having tech packs is the key to working with factories overseas and even domestically. Sarah can save you a lot of time and money in the long run. I work with factories in Vietnam and see people wasting time and money because they come to Vietnam without tech packs and don't have their designs completed.
Her clients describe her as energetic and professional.
Check out her client testimony as evidence.
In addition to fashion design, she likes assisting her clients with logo and branding services.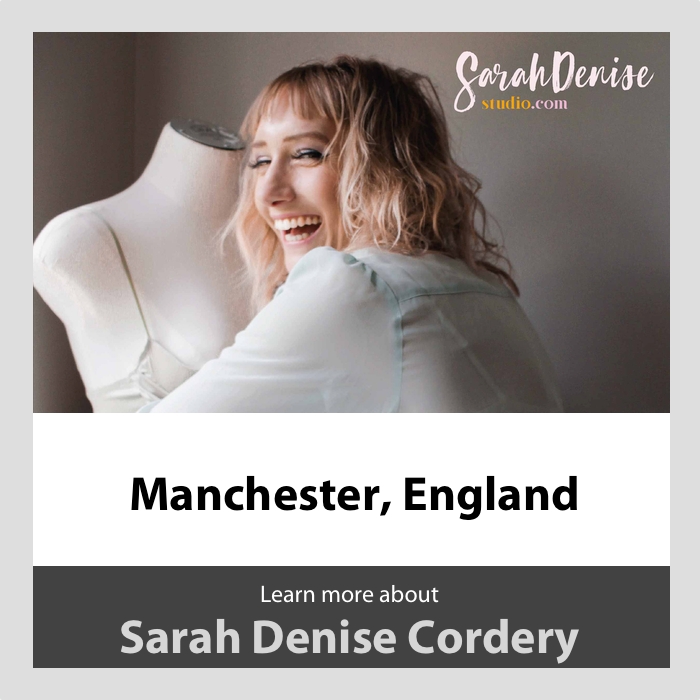 Sarah is an award winning bodywear apparel specialist with a decade of industry experience as a designer and product developer for world renowned international fashion brands. Most recently she worked as lead designer in multiple departments at one of the UK's largest online fashion retailers. To say she is an apparel tech pack freelancer in Manchester is just the beginning of her story.
Sarah offers technical expertise and industry insider experience for both creative and technical design for start-ups and established brands. She is an apparel tech pack freelancer in Manchester specializing in activewear, swimwear and loungewear.
She has a keen eye for colour, graphics and innovation; Sarah is always ahead of the curve and has worked with names like Ann Summers, Bluebella, Calvin Klein, Missguided and Boohoo.
Sarah setup Sarah Denise Studio in 2019 after noticing a gap in the Manchester market for complete end to end services within the fashion industry. From concept and design to catwalk and catalogue, Sarah's team can get your designs ready for both domestic or overseas mass production.
Having worked on the supplier side of industry representing factories, as well as in house at big name brands, she has a complete knowledge of a product life cycle and what it takes to launch a successful brand. Sarah knows the importance of clear concise communication within a tech pack.
She can work remotely with you but her preferred method is whatever you are comfortable with. She will grab a coffee with you or meet in the comfort of your living room in person or via a zoom consultation. Book an appointment here: https://www.sarahdenisestudio.com/book-your-consultation
I met Sarah on
LinkedIn
and love the positive vibe in her brand universe. I have never met her in person but based on the content she has uploaded on the web, I feel that working with Sarah would be fun and professional. I think she chose this picture with an energetic smile for a reason. She can help you with your logo and branding as well as being the best apparel tech pack freelancer in Manchester.

Now Sarah and her team work with a variety of clients helping to bring their visions to life.
Whether you are well established and need a new collection or category designing, or you are undertaking the (sometimes intimidating) task of launching your own brand, Sarah Denise Studio is here to help, with services tailored to the specific needs of each client.
Portfolio work from Sarah Denise Studio can be seen at:
https://www.sarahdenisestudio.com/apparel-design-portfolio

Check Sarah's work out on Instagram: Check Sarah's work out on Instagram:
https://www.instagram.com/sarahdenisestudio/?hl=en
Activewear and Nightwear Samples
Concept, Trend & Merchandising:
Every brand starts with an idea - this is where Sarah will tweak and polish your brand concept and offering. This includes:
Trend prediction, mood boards, material trends, and colour palette creation, as well as market research ( eg identifying USP's for the brand, brand identity/logo creation, and pricing analysis.)
Participation in industry shows allows Sarah to communicate the latest seasonal trends and fabric intelligence with her clients.
Strategic collection planning, from identifying your key pieces and profit generators to nailing brand aesthetic and suitable sizing; all to resonate with your brand values and target customer.
Sketch & CAD:
After fine tuning your brand personality Sarah will begin designing, initially hand sketching and then developing these into final CADS (computer aided designs) using Illustrator & Photoshop. You will be included throughout the design process & regularly asked for feedback. These will then be included on a final range sheet.
Technical Packages:
Finally, technical packs of the finalised designs will be created to help manufacturers interpret & begin sampling/production.
Tech packs can include labelling, packaging and a fitting diary to record all sampling communications between yourself and the factory.
Further services:
Sarah also offers sourcing & manufacturing assistance, including product development and fitting.
The full service offer can be found on her website :
https://www.sarahdenisestudio.com/
If you want to make your own tech packs then download my free ebook:
In my book I explain how hard it is to make your own tech packs and recommend that you hire experts like Sarah. She is an Apparel Tech Pack Freelancer in Manchester that will save you a lot of headache down the road when you start working with factories in Vietnam.
Start with Tech Packs
Engineer your MOQs
Choose your QC Levels
Look Up Import Tax
Calculate Shipping Costs
Let's connect on social media