Apparel Tech Pack Freelancer in Ho Chi Minh City
Dane has been working for 12 years in textile and retail in her hometown of Ho Chi Minh City, Vietnam. Now she is working as a tech pack freelancer in Vietnam.

Her first job was working for Minh Hoang Garment join stock company. She was responsible for total quality management (TQM). Then she worked as the person in charge of continuous improvement (CI) for Fuluh Shoes company. She worked as a merchandiser for export orders to Polo Ralph Lauren, Calvin Klein and Gas within the Asmara group office in Saigon. Now she is comfortable with the whole apparel manufacturing process from making samples, giving comments, receiving the order, receiving the fabric & trim to production & inspection. Making the jump to apparel tech pack freelancer was her destiny.

She is proud of Vietnam because now even supermarkets like BigC where she worked can produce well designed and quality clothes at a cheap price for the domestic market. In 2015 she saw a 5 year old Vietnamese girl wearing a cute and well made dress in a high class shopping mall of district 1 in Ho Chi Minh City. Dane recognized the dress because she helped design and produce it for BigC. The girl bought the dress in BigC which is a discount department store. Dane was very surprised and felt proud because BigC is hypermarket known for cheap products. At that moment, she realized how Vietnam has developed. A dress designed by a Vietnamese team for a hypermarket could be worm with pride. Dane has seen, first hand, how the Vietnam design and apparel manufacturing skill level has approached 1st world status. Are you looking for a top notch apparel tech pack freelancer in Vietnam?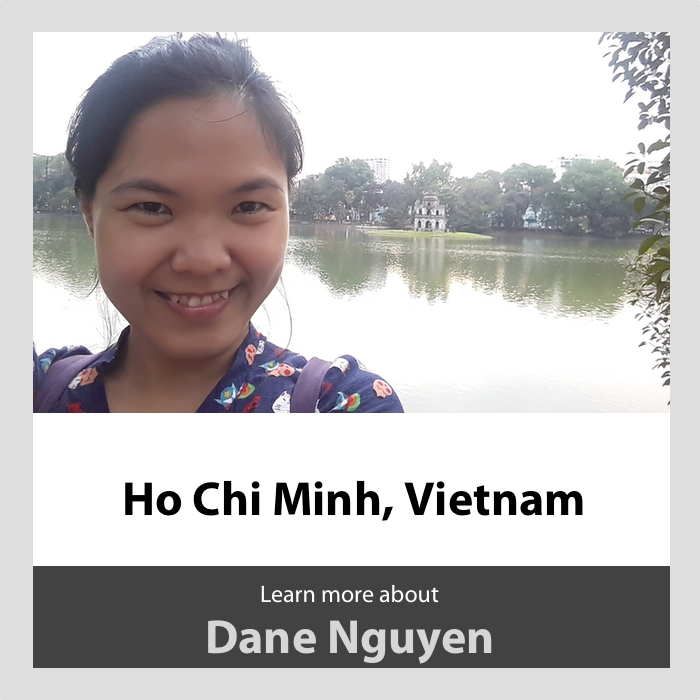 During her university studies of technology and education she learned about general science subjects like math, chemistry, physics , economics and then later she was taught the history of textiles, apparel manufacturing, garment company management, creative design and technical design. She has experience with men, women and children tops, bottoms and dresses. She continued her studies at the university of economics majoring in accounting. She focused on the accounting of buying, selling and processing of apparel. Her practical knowledge really improved working at the factories by following buyer's documents and standards. She translated documents and learned from her managers. Her best training experience was as a line manager on the factory floor. Now she is a competent apparel tech pack freelancer in Vietnam.
Before Dane became an apparel tech pack freelancer in Vietnam, she had a chance to work at BigC Vietnam as the soft-line product development and QA/QC manager. It was a double job where she discovered her skills and passion. She recognized that she loved the feeling when she saw someone wearing clothing which she designed and launched as private label. She saw the design come to life on paper, selected colors and got it sewn together. It was really a fantastic feeling for her to see the whole process from beginning to end. She was hooked on fashion manufacturing and wanted more. It was time to start as an apparel tech pack freelancer in Vietnam.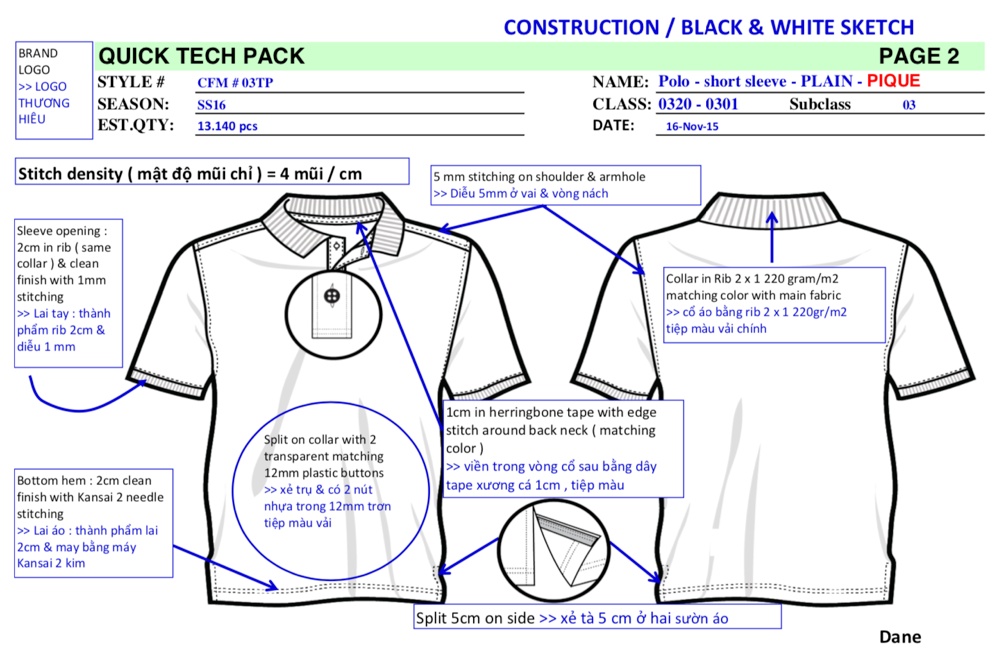 At BigC she was developing samples for the BigC collection. She was contacting suppliers directly, confirming all samples and swatches. She gave them information about quantity, processing, quality, production, labeling, packing and delivery dates. She also made all tech packs to guide production. She set up price stickers and supplier bar codes. She audited factories and did final inspections for all orders. She was the link between the suppliers and the stores. She managed all documents as the law required. She solved suppliers problems and made sure the products made it to the store on time. She has worked with around 100 suppliers in Vietnam. Hire her as an apparel tech pack freelancer in Vietnam and get access to her network of factories.

This job at BigC honed her skills and helped her discover her passion which is fashion. She loved the feeling when she saw anyone wearing garments which she helped launch as their private label. She can look at your designs on paper, help you select fabric and trims and imagine ways to improve the design to make it easier to produce and lower the total cost.
Tech Pack Services Dane Offers:
Full tech pack with clear details on garment
Technical file with clear details for production
Quality standard for garment
Inline and final inspections
Creative and technical design consulting
If you want to make your own tech packs then download my free ebook:
In my book I explain how hard it is to make your own tech packs and recommend that you hire experts like Dane. She is an Apparel Tech Pack Freelancer in Vietnam that will save you a lot of headache down the road when you start working with factories in Vietnam.
Start with Tech Packs
Engineer your MOQs
Choose your QC Levels
Look Up Import Tax
Calculate Shipping Costs
Let's connect on social media