Digital Marketing Internship Focus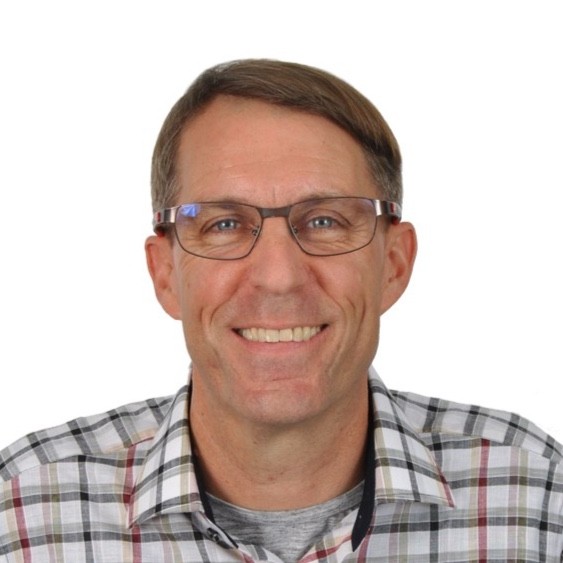 Chris Walker
Ho Chi Minh City
Vietnam

Hi, my name is Chris and I am looking for interns to work with me to hone their digital marketing skills. Together we implement all of Google's free digital marketing tools like Google Tag Manager, Google Search Console, Google Analytics and Google My Business. Then we learn the basics of SEO and do weekly webpage audits and keyword phrase ranking reports. These are the foundation of what we cover in my digital marketing internship in Vietnam.

We focus on content generation during your digital marketing internship in Vietnam. You will improve your English writing skills and learn a lot about sustainable textile manufacturing. Each day we will write posts that are original, intelligent and add value to my social media campaigns. I promote apparel manufacturing in Vietnam, the use of sustainable business practices and eco-friendly fabric production. You will be asked to read, learn and write about these topics each day to educate, entertain and inform people around the world interested in responsible textile manufacturing. You will improve your English writing skills and become an expert at posting on LinkedIn, Facebook, Instagram, Twitter, Zalo and Google My Business. Your digital marketing internship in Vietnam will prepare you to launch your own personal brand.
Introducing Mathilda's Experience as an Intern
Mathilda is a business student from France who interned with me for six months. Together we learned the basics of GetResponse, Google Tag Manager, Google Analytics and Google Data Studio. I asked her to share highlights of her digital marketing internship in Vietnam and here is what she said:
In Vietnam, the sun rises at around 5 am and the sun sets at 5:30 pm. At 6 am shops are already open and people are out and about on the streets. I really enjoy this rhythm, I have always been a morning person, so it suited me well. At the end of the day, you got the impression that you did many things and you go to bed at 10pm.

The way Vietnamese drive is what I will remember the most about Vietnam. I do not own a driving license, but after all my experience navigating the chaotic traffic of Ho Chi Minh City, I am ready to take my drivers exam and I am sure I will pass. The only rule when driving in Vietnam is, avoid hitting the other driver no matter what. Do not be surprised to see 4 people on a motorbike with 2 dogs driving in the opposite way on your side of the road! You will see many crazy things during your digital marketing internship in Vietnam.
Read -> Learn -> Then contact the factory.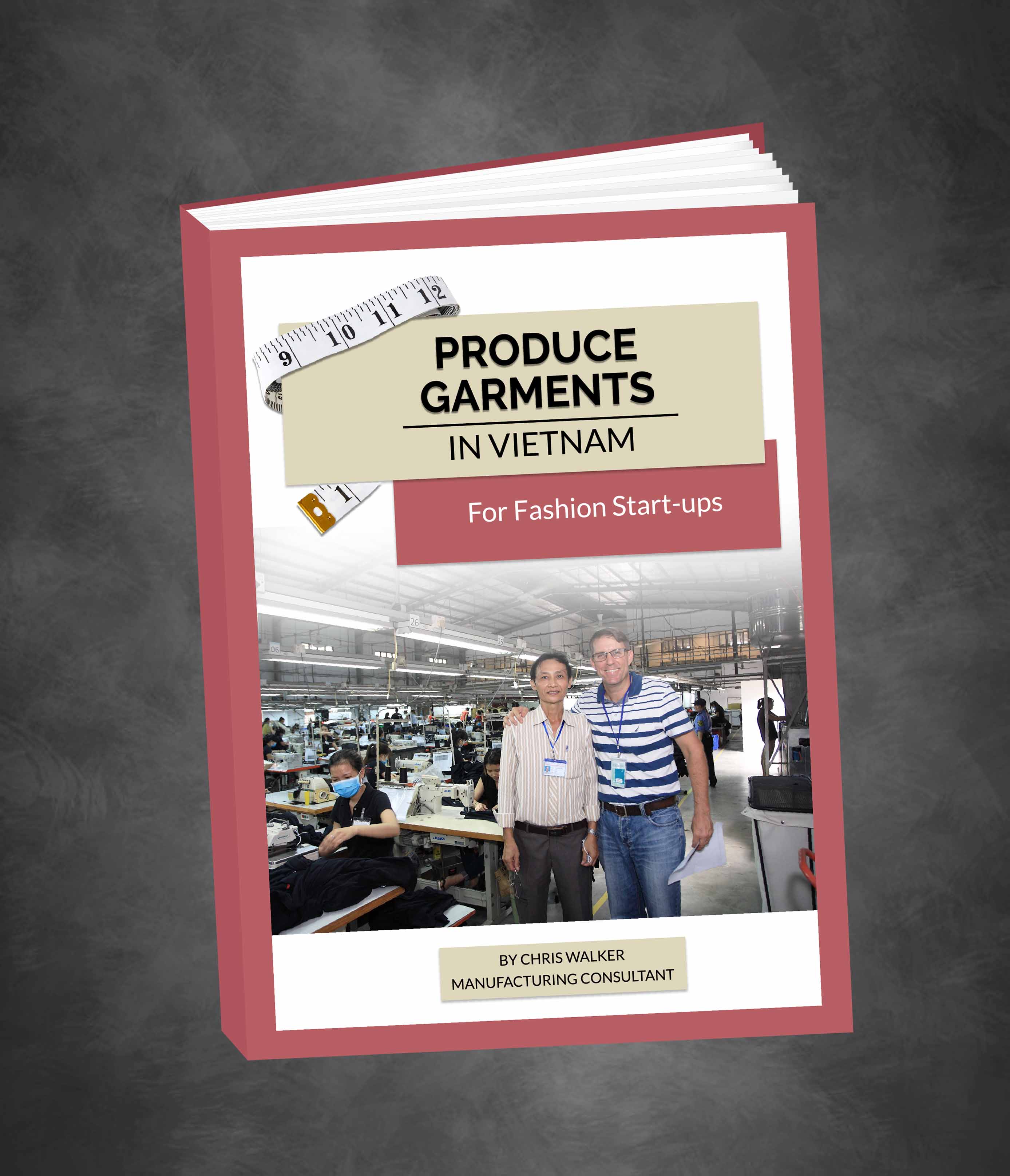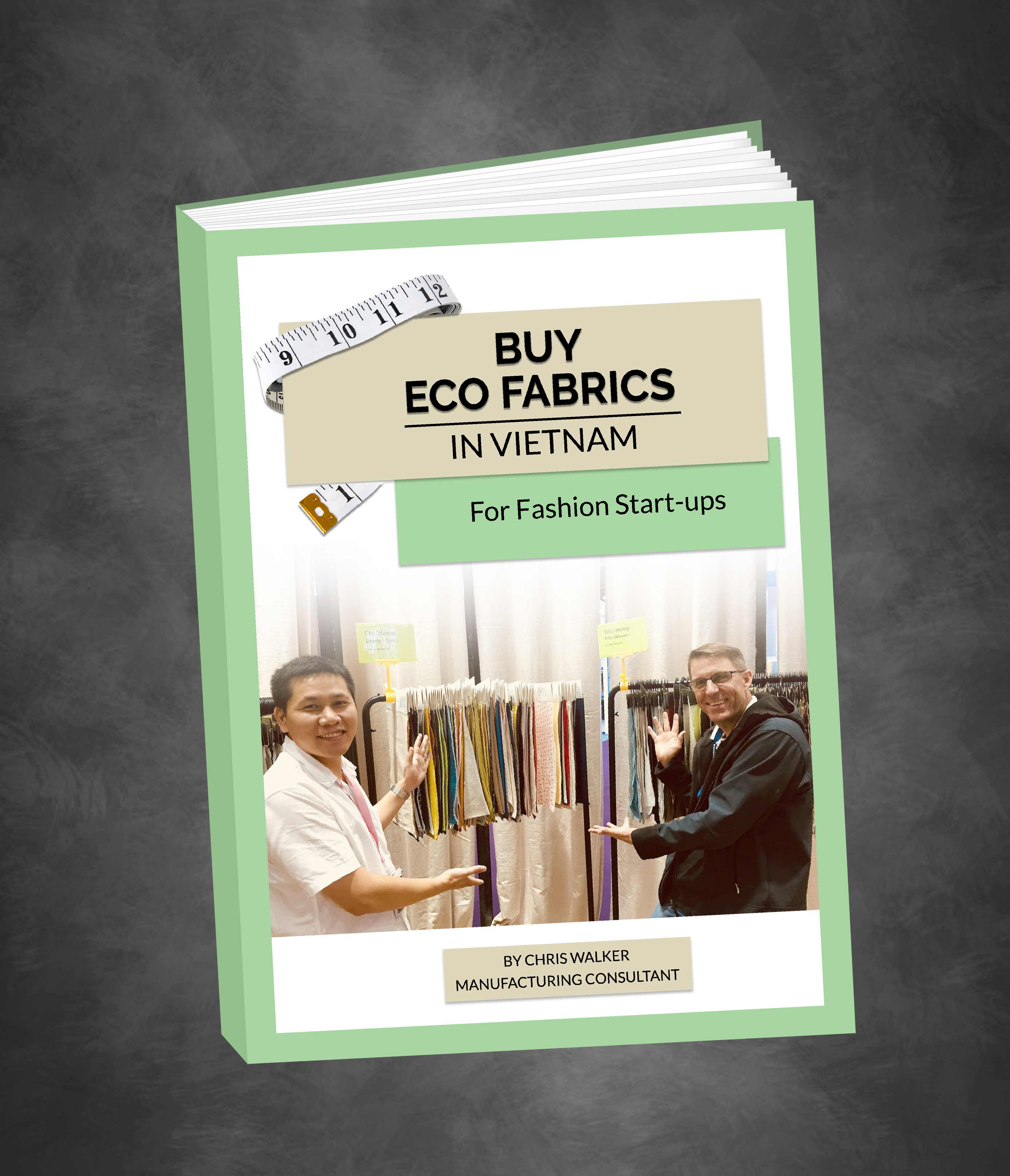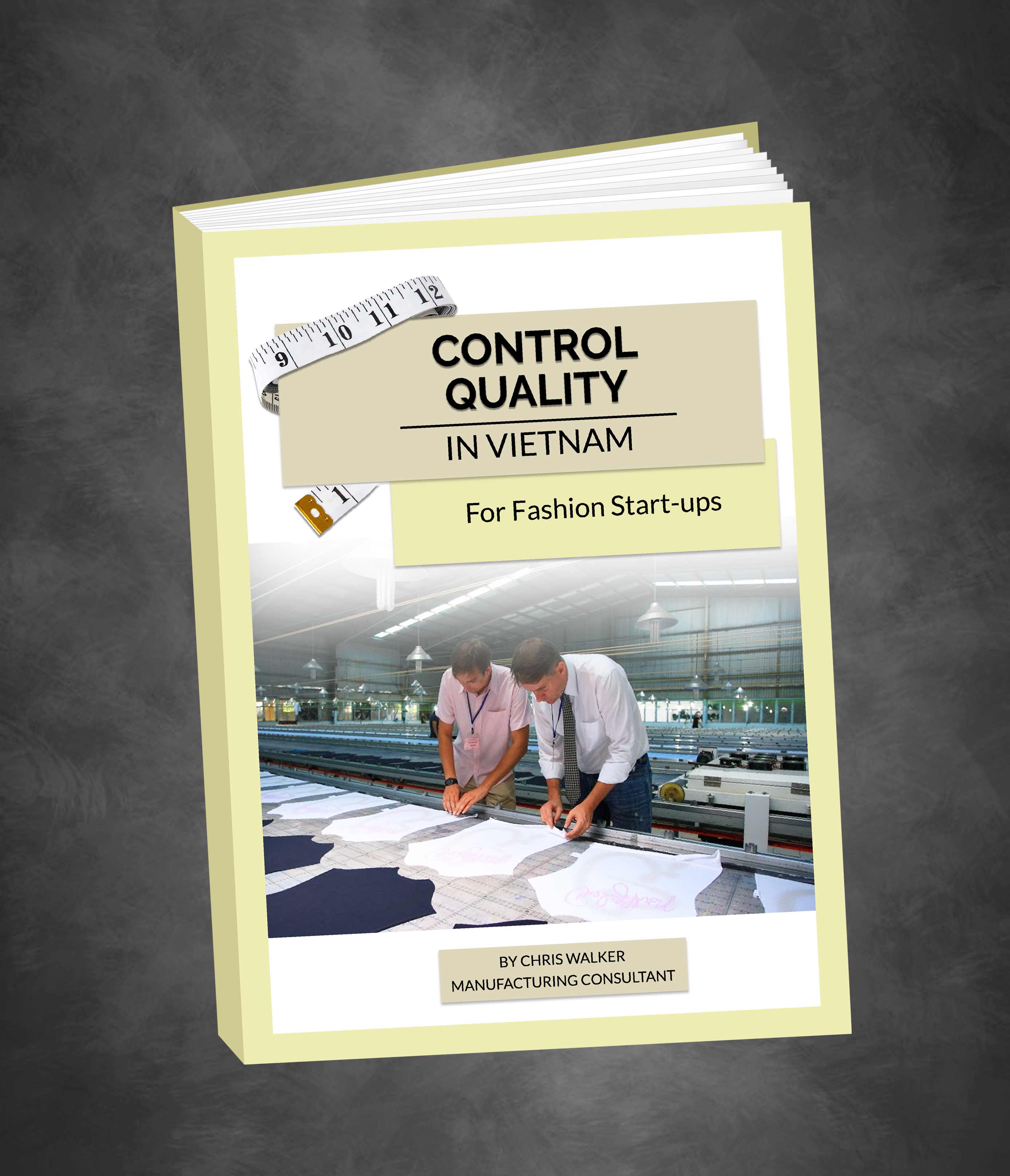 I wrote these books during my first few years
working in the Vietnam garment industry. I teach you basic knowledge and insider tips that will help you work directly with factories in Vietnam.
If you are just starting out then I recommend you read my books before contacting factories.
For example, it is critical to know basic things like what is the difference between woven and knit fabric; what is different about viscose, rayon, tencel, modal and hemp; and what is the Acceptable Quality Level system?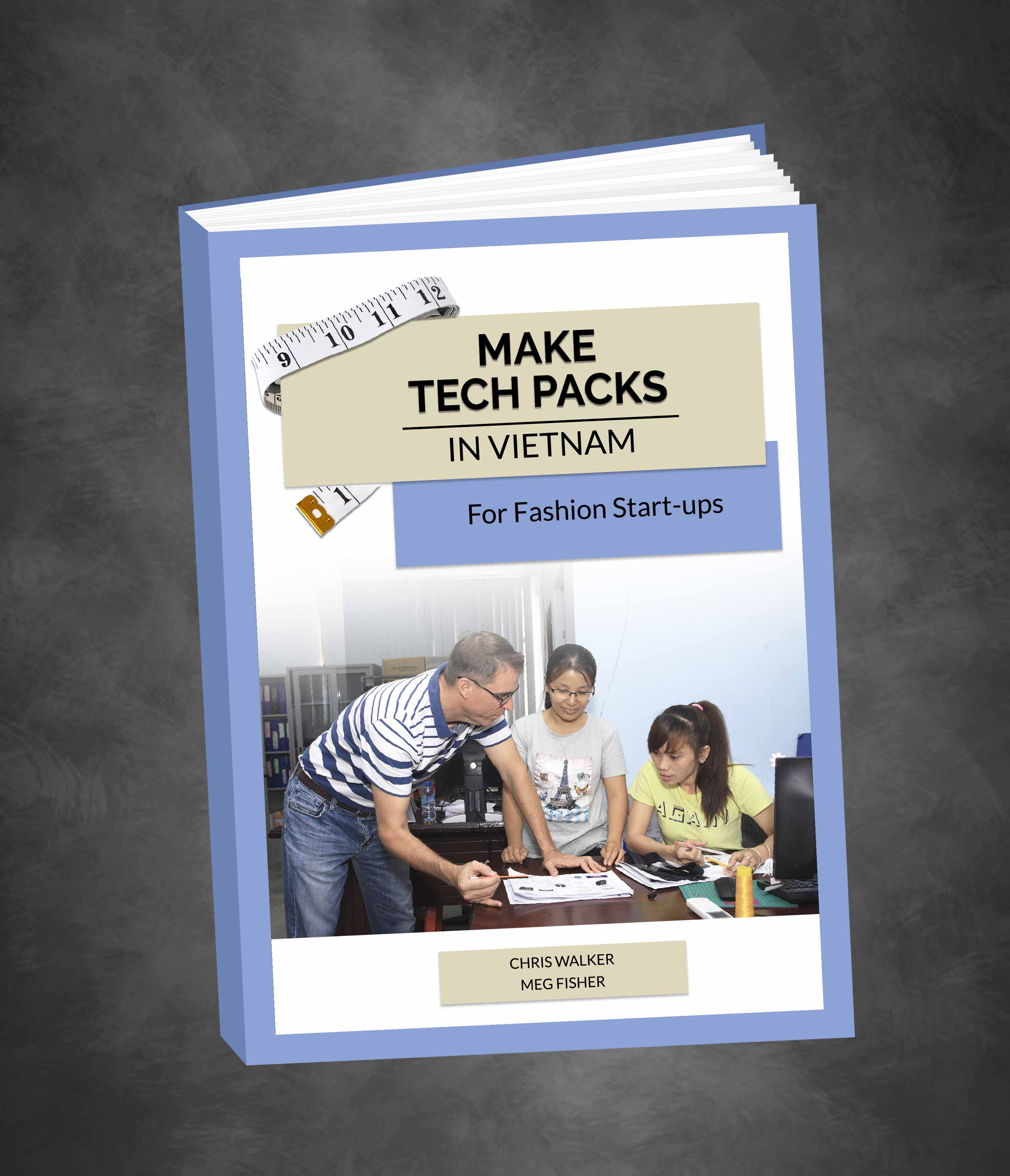 Renting a Motorbike
"If you are in Thao Dien and you want to rent a motorbike at a cheap price, I recommend Saigon Motorcycles. They have safe and well maintained motorbikes. They provide you with a good helmet.

I also recommend to buy a raincoat for when you get caught by a thunderstorm. You will be asked to pay 2 million as a deposit plus the monthly amount for the rent of the motorbike. The price goes from US$40 to US$70 per month.

Definitely rent a motorbike during your digital marketing internship in Vietnam."
Medical Support
Unfortunately I had to go to the hospital a few times because of an infection I got. In Ho Chi Minh I went to Family Practise hospital in Thao Dien. The service was professional, there was no wait and I paid 320 Euro which included a consultation and one round of anti-biotics and operation. I recommend you get health insurance before you spend six months interning in Vietnam. I had to go to the hospital in Hanoi too, I recommend the French Hospital. It was the best hospital I have ever been to. I had a great experience there because doctors spoke my language so I was reassured. The hospital itself was really clean, and the service more than qualitative. If you are French, I strongly recommend you to go. If you are not I still recommend you to go there for the quality of the services. I wish for you that you don't get sick during your digital marketing internship in Vietnam.


Daily Life
I enjoyed my daily life in Vietnam because I was comfortable eating at local places, riding in local transportation and staying in simple hotels. If you can avoid all the expensive foreign restaurants and hotels the cost of living is low but the quality is more than acceptable. My best food discovery in Vietnam is coconut coffee. I usually pay 2 euros for a large size coffee. One trip from Ho Chi Minh to Phu Quoc, an island in the south of Vietnam for 3 days cost me 120 euros. I went with a friend and we shared a room. We rented a motorbike and explored the island. We stayed at a clean and safe hotel, we ate at local restaurants where the food was superb and we bought stuff from the market. You must travel during your digital marketing internship in Vietnam.

Do be careful because Vietnamese are smart and understand economics. They will scam you if they can. Outside of supermarkets all prices are negotiable. Be prepared to negotiate during your digital marketing internship in Vietnam. In fact, how much you spend depends on how well you study the economics of your country vs Vietnam. In the US, a cheap cup of coffee costs US$ 1.25 but you can get that same cup of joe in Vietnam for US$ 0.65. Or you can pay US$ 4.0 at Starbucks both in the US and Vietnam.


What I learned with Chris
I worked with Chris as his digital marketing manager. I knew about keywords, but I did not understand how they helped each page on a website to be highly ranked on google. My job focused mainly on analysing the data of Chris's websites. Chris taught me how to do a keyword ranking report to be sure each page was getting to the top of google search results. The first thing I will consider when I build my next website is, which keywords do I want to get ranking for.

At the very beginning of my digital marketing internship in Vietnam, Chris introduced us to the power of "why" introduced by Simon Sinek. It took me a month to understand how beneficial knowing your "why" could be for my future. Your "why" is what makes you happy. Your "why" is your reason for living. Each individual has a "why" and each brand has a "why." I am still figuring out my "why." I know that my "why" will be related to protecting the environment. For brands, most of them focus on what they are doing and how they are doing it but they don't focus on why they are doing it. In most cases the "why" is simply to earn a profit - make money. Making money is good but then the company culture becomes greedy and lacking happiness and joy. When I go for job interviews I will look closely for the "why" of a brand to know if it is the right company for me or not. The main advantage for a brand "Why" is that you build loyalty with your customers based on something deeper than just delivering a product or service.

Chris also helped me discover the value of LinkedIn during my digital marketing internship in Vietnam. Before I met Chris, I had never considered spending time on Linkedin. First we updated my profile data and images. Then we started connecting with my target audience. Finally we posted on a regular basis. Chris helped me understand the professional opportunity that LinkedIn represents. I went from 150 random connections to more than 1000 targeted connections. I invited people to connect with me based on their job title which fit my interests. I had 2 job offers within one month after applying Chris's Linkedin posting strategy. Getting these job offers has made me a believer in Linkedin.


Advice for Future Interns
Here are three pieces of advice I have for future interns who are considering intern in Vietnam?
Don't hesitate, Vietnam has been my best experience so far on both professional and personal side. The country is amazingly beautiful, the people welcoming, the culture open to strangers. Vietnam is the country in full economic growth. It is a country full of opportunities for young students and interns like us. So you should better catch this wonderful opportunity to experience a digital marketing internship in Vietnam.

Do not bring clothes for cold weather. On average the temperature is between 30-36 degrees Celsius. You don't need to bring with you a coat or sweater. In addition, Vietnam is really cheap, the best is to travel light and to buy in Vietnam what you are missing.

Try to learn the most common words of the Vietnamese language. Such as "thanks", "hello" and "goodbye". In general, the level of English that Vietnamese speak is not the best and communication can begin really complicated. There are many different accents. Personally, I regret not having been able to exchange more with Vietnamese people while I completed my digital marketing internship in Vietnam.
Start with Tech Packs
Engineer your MOQs
Choose your QC Levels
Look Up Import Tax
Calculate Shipping Costs
Let's connect on social media